The cinema of Yakutia is gaining momentum. Film screening at LenDoke 05/06/2017 automatic translate
ST. PETERSBURG. In the film studio of the documentary films «LenDok» the premiere of the film «A bonfire in the wind» was held.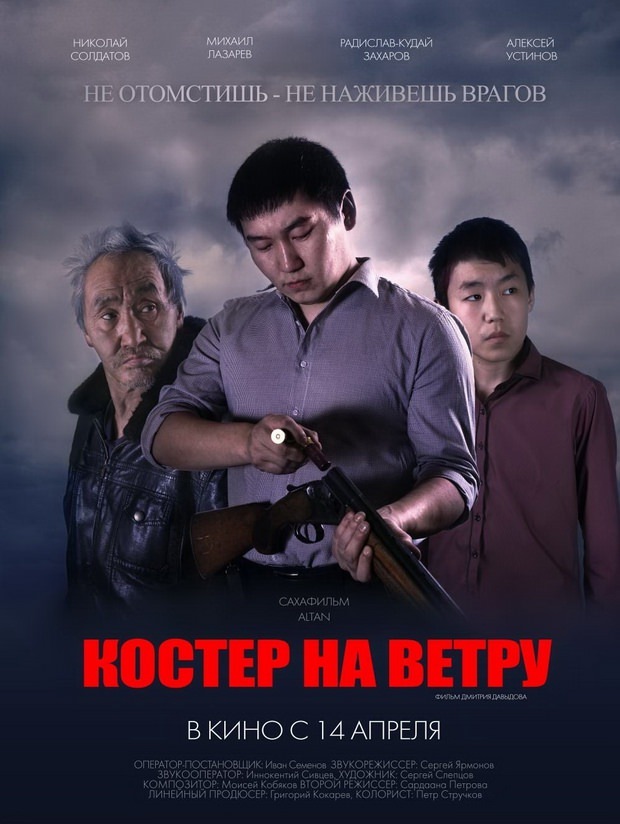 At the V national debut festival «Movement», which was over at the end of April, Dmitry Davydov's painting «The Kostor in the Wind» was considered one of the main contenders for the victory. Grand prix went to the graduate project of the graduate of the Cologne Academy of Media Arts Anna Kreis - tape «Found a scythe on a stone.» Yakut «Kostyor» was awarded three awards at once: for brilliant director's work, best male role and special prize of the governor of the Omsk region. Recently the film was recognized as the best at the ImagineNATIVE Festival in Toronto, selected for the contest program of the 21st Busan International Film Festival. The cinema of Yakutia, the largest and sparsely populated Russian region with endless winter and lightning speeding in the summer, is gaining increasing popularity not only at home, but also abroad. Kostas Marsan's thriller «My Killer» was nominated for the Golden Globe-2016 in the category «Best Foreign Language Film», took part in the World Asian Film Forum.
It's amazing, but in the creation of «Campfire in the wind», mostly amateurs took part. Starting from the actors and ending with the director Dmitry Davydov, in the «ordinary» life director of the secondary school of a small village Chapchylgan. Limited budget, tight deadlines. In the center of the narrative is the story of elderly fellow villagers who survived the tragedy. The dramatic plot is akin to Shakespeare's: murder, suicide, redemption of guilt. Members of the jury of «Movement» and guests of the festival noted the tremendous actor's works, visual series, undoubted skill of the director-debutant. Studio «LenDok», located on the quay of the Kryukov Canal - is the largest repository of archive newsreels, the production of new films and TV shows, master classes, lectures. The «Campfire in the Wind» show, which took place on June 2, provided the studio guests with a rare opportunity, in conditions of extremely limited rental of author's films, to get acquainted with the decent work of a layman who is promised a great future.