How to promote artists their work on the Internet? Automatic translate
Most artists want people to like their art, and if they want to make money from it, they need to find buyers. In the world of art it is often difficult to make a good impression, but if you do not promote yourself and your work, you will not be able to find your audience. No matter how talented you are, people are not going to look for you unless you try to attract potential buyers. For many artists, this is the most difficult task they face.
Here are some tips to help you advertise your work online.
In the absence of the Internet, the only way to advertise artwork is to hold exhibitions, sell works of art to influential people and hope that through their recommendations your talent will eventually be noticed and recognized. Thanks to the Internet, this has become much easier. Anyone who has even a drop of talent can sell their works on the Internet. True, this will take some time, since it will take a personal brand, but the first thing to do is create a portfolio with your works.
Create a website.
All artists need a portfolio. Your portfolio is what allows you to convince galleries to place your work or place an order for a particular painting, and it will also help you find clients. A site is an ideal place to post samples of your work that can be seen by thousands of Internet users.
An artist's site should say from the very first minute that this resource belongs to a creative person, so if you are creating a site in WordPress, look for themes designed for photographers or visual artists who pay great attention to images, not texts. Download high-resolution images of your work and add specific information about each work.
Do not forget to provide contact information and add social buttons. If people like your work, they will want to share them with their friends.
Social networks.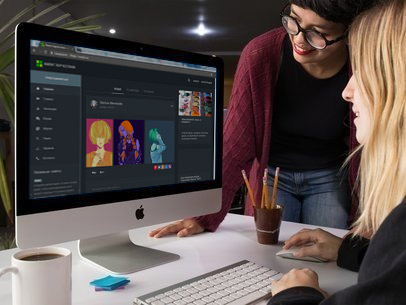 Use social networks to promote your work, create new connections and let people know when you have an exhibition or other event planned. Customize your Facebook page for your work and create social media accounts such as Tumblr, Instagram and Pinterest. It is very important that you regularly publish your work, because the more active you are, the more people will see your work, and therefore share it with other users.
Use social networks like Live creativity - artists and illustrators , to interact with other artists and organizations related to art. Art is a business, so it is important that you become an active participant in the art world. The more authoritative you become, the more people will want to contact you in order to purchase something, or make an order.
Use email and social networks to interact with existing customers. Send them regular updates on your latest work. Perhaps they want to buy your new job, or visit the upcoming exhibition.
---