Diaries of the poet, artist and free man Pavel Salzman 31/08/2017 automatic translate
MOSCOW. Paul Zaltsman's diaries are published.
The diaries and memoirs of Pavel Zaltsman's «Shards of a shattered smash» are already the third book of the publishing house «Aquarius», which acquaints the literary creativity of a famous artist, poet and writer. In 2011 the poetry collection «Signals of the Last Judgment» was published. The 2012 edition includes stories written in the middle of the last century, the story of Memento and unfinished phantasmagoric novel «Puppies». Over the last work, which is called one of the vertices of Russian literature of the last century, the author worked throughout his life. Memento - a piercing tale of the war without stilted patriotism. The plot is based on real stories, including the fate of the Musician brothers who worked together with Zaltsman at the Lenfilm studios. One of them, a screenwriter and film director, died of a heart attack at age 34.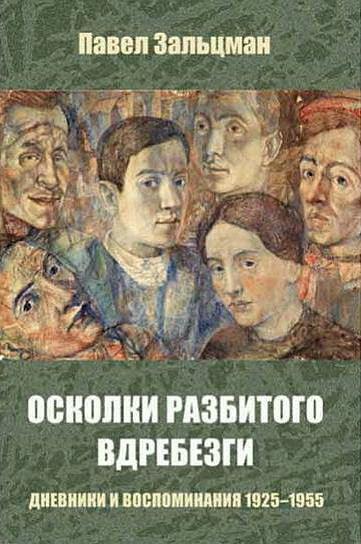 «Shards», as well as previous editions, help fill information gaps, «underestimate» the multifaceted gifted person, the last oberiut, student Filonov, member of the group «Masters of Analytical Art». Salzman's literary heritage is a grand opening for those who knew him only as a talented painter, graphic artist, film artist. The general public could get acquainted with memories, stories, poems, novels, and Ordinamenti play only in the 21st century.
People who knew him well, speak of the loneliness and inner freedom of this man, incomprehensible in the conditions of a totalitarian society. In one of his prewar records, he complains about the lack of time for reading and creativity due to the daily routine work at the film studio, which allows not to die of hunger. But the probability of merging into the ranks of the glorified, and therefore more well-fed and provided, they were never considered. All his life he remained outside the system, outside the ranks, marching to a brighter future, choosing for himself an internal emigration. Worked incessantly, finding in this the salvation from loneliness and not expecting to see what was written «on the table» on paper.
Diary entries cover several periods. Odessa, the family's relocation to Leningrad, work on Lenfilm, the hardest years of the blockade, which took Zaltsman's parents away. Evacuation, together with Lenfilm workers in Kazakhstan in July 1942, saved him from hunger and repression. A German by father, he would not have escaped the deportation to which the German population of Leningrad and the Leningrad region was subjected.
The evacuation was for him and an indefinite reference. Return to the northern capital was prohibited. A Jewish mother, after the war, he was not allowed to work in the period of struggle against cosmopolitanism. He worked at the studio «Kazakhfilm», taught at local universities, was engaged in painting and literary creation. Here he died of a heart attack in December 1985.
The diaries break off on records concerning a trip to Leningrad in the mid-1950s.