Memories of Nina Kandinsky about her husband, era and fate 20/07/2017 automatic translate
MOSCOW. Publishing House «Art-XXI Century» published Nina Kandinskaya's memoirs in Russian.
September 2, 1980 in the Swiss resort town of Gstaadt, in the chalet «Esmeralda», was found the body of the mistress. The elderly lady was killed the day before, shortly after the guests left her guests. Pictures of her great husband remained untouched. The killer was interested only in the collection of unique diamonds, which she so cherished. The villain, according to the police, was in the circle of friends of the deceased. His name is still unknown. A few years later, the stolen jewelry began to float at various auctions.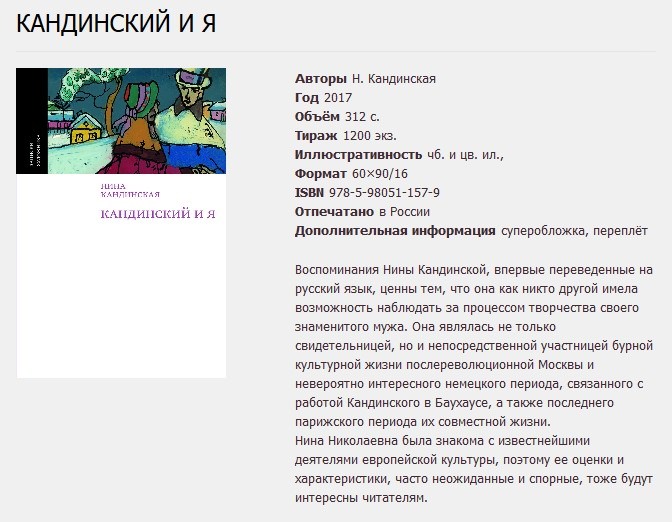 Thus ended the life story of Nina Nikolaevna Kandinskaya, full of trials, losses and joys. The thirty-year age difference did not become an obstacle in relations with the ancestor of abstract art. The girl's voice, sounded in the phone, fascinated Vassily Kandinsky and inspired him to watercolor «The Unknown Voice». Correspondence acquaintance grew into a family union. Love from the first word lasted more than 27 years. Together they survived the death of their little son, decided to move from post-revolutionary Russia to Germany. After coming to power, Hitler and the closing of the Bauhaus (Bauhaus) moved to France, where the great artist and died in 1944 at the age of 77 years.

The film of the TV channel «Culture» - «The unfamiliar voice of Nina Kandinskaya.»
After the departure from the life of Kandinsky interest in his work and the cost of paintings grew rapidly. Nina Nikolayevna did a lot to preserve the memory and popularization of his work. In 1946, she established the Prix Kandinsky Prize for the encouragement of talented painters, donated to his paintings galleries his paintings, took part in the organization of exhibitions. In Munich in 1976, in German, her book Kandinsky und ich with memories of her husband, various periods of their life together, the era, famous people, with whom fate reduced.
Thanks to publishing house «Art-XXI century» memories «Kandinsky and I» were published 41 years later and in Russian.