WINZAVOD opened the exhibition 'The best photos of Russia-2016' 16/02/2017 automatic translate
February 15 at the Center for Contemporary Art WINZAVOD opened one of the main annual projects of the Center - the exhibition Best of Russia («Best Photos of Russia») . Almost 300 photos telling about the life of Russia in 2016. The exhibition consists of five sections - «Nature», «People. Developments. Everyday Life «,» Architecture «,» Style «and a special theme» Take Care of Happiness «.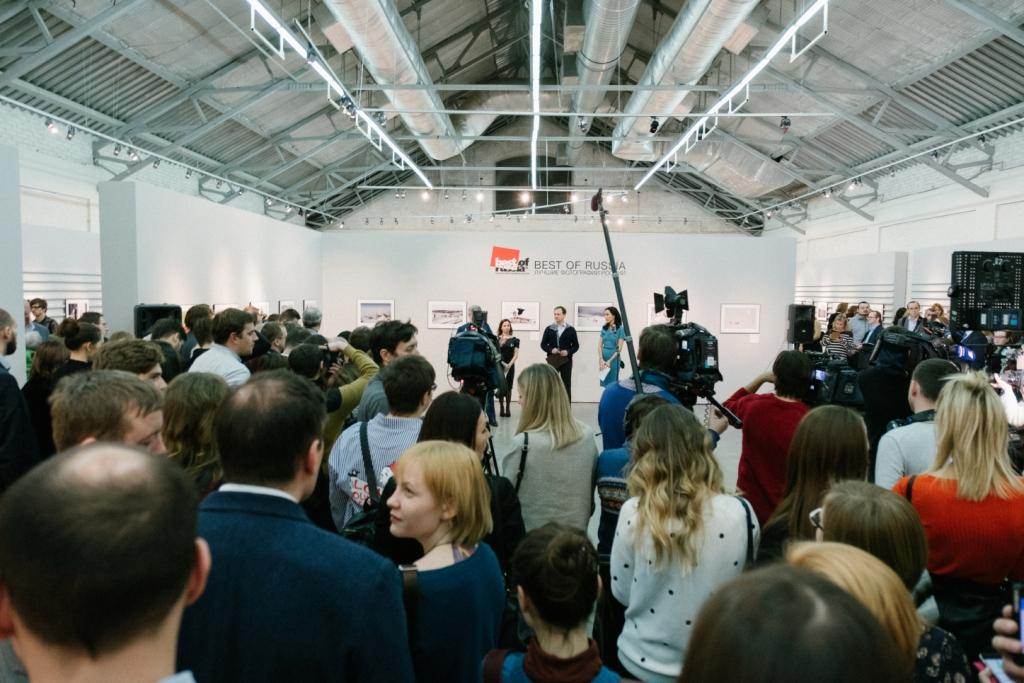 The exhibition was opened by the Minister of Culture of the Russian Federation Vladimir Medinsky, the Minister of the Government of Moscow, the head of the Department of Culture of Moscow Alexander Kibovsky, the president of the Foundation for Support of Contemporary Art WINZAVOD Sofya Trotsenko, the curator of the project «The Best Photos of Russia», the executive director of the Foundation for Support of Contemporary Art WINZAVOD Lina Krasnyanskaya.
Vladimir Medinsky: «In the 19th century, when people were just learning to photograph, it was such a complex, time-consuming process requiring special knowledge that the best photographers were accepted on an equal basis with artists at the Academy of Arts. Since then, the process has become easier, either of us can press the shutter button, but the ability to catch the moment, convey the full sense of life, character, capture the event - this is still an art. «
Sofia Trotsenko noted that more than 25 thousand photographs were sent to the contest, about 300 pictures were included in the exposition. «The project unites our whole country through the love of photography, it involves all regions of Russia,» added Sofia Trotsenko.
Lina Krasnyanskaya thanked the jury of Best of Russia for the great work done to select the best pictures from tens of thousands of applicants, all project participants and partners: S7 Airlines' official partner, Pro Lab Lab, Visual Arts School Natalia Udartseva, design of Arbeitskollektiv bureau, and information partners: TASS, the newspaper Metro, magazines Geo, SNC, Profile, radio Kommersant FM, TV channel MIR.
Among the guests of the exhibition were Deputy Minister of Culture Alexander Zhuravsky, Deputy Head of the Department of Culture Vladimir Filippov, Chief Architect of Moscow Sergey Kuznetsov, Director of the State Museum and Exhibition Association ROSIZO Sergei Perov, Director of Multimedia Art Museum Olga Sviblova, Executive Director of the Moscow Museum of Modern Art Vasily Tsereteli, co-owner of the Triumph Gallery Dmitry Khankin, head of the Department of Contemporary Art of the State Erizha Dmitry Ozerkov, director torus Moscow School of Photography and Multimedia named Rodchenko Lungin Elena and Irina Uspenskaya, general director of the Jewish Museum Aleksandr Boroda, winner of the Pulitzer Prize and the World Press Photo award, photographer Dzheyms Hill, winner of the Pulitzer Prize and the World Press Photo Award Sergey Ponomarev, journalist Alexander Budberg.
Exhibition «The best photos of Russia - 2016»
16 February - 26 March,
4 th Syromyatnicheskiy per., 1, p. 6
Tue-Sun, 12: 00-20: 00.
Ticket price: 250 rubles.