Chinese National Art Museum in Beijing automatic translate
The Chinese National Museum of Art, located in the center of Beijing, was created to collect, research and display arts. The main exhibition hall, an area of 9 900 square meters. M, is divided into 17 main exhibition halls. On each of the five floors you can see a variety of works of art.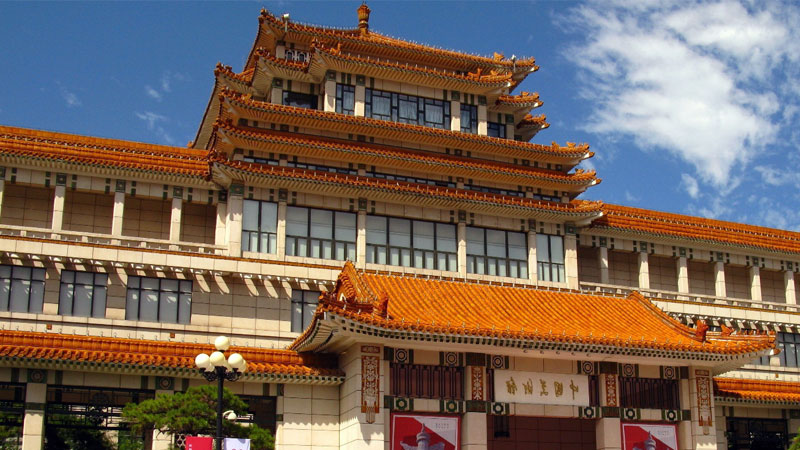 Currently, the Chinese National Museum of Art holds more than 100,000 works. The main collections were created around 1949. The works created at the end of the Ming dynasty (1368-1644), the Qing dynasty (1683-1840) and the early period of the Republic of China (1912-1949), are also special, among the entire collection. Most of the collections are outstanding works of art created by famous contemporary artists. In addition, the museum exhibited more than a thousand foreign works.
Art
Works of fine art collected in the Chinese National Museum of Art were mainly created by contemporary Chinese artists such as Ren Bongyang, Wu Changshuo, Qi Baishi and Xu Beyhun, as well as artists such as Wu Guanzhou, Dong Siwan and Luo Zhongli. Their work attracts a lot of attention from both the Chinese and foreign guests.
Folk Art
Folk collections mainly include scraps of paper, shadow puppets, masks, ceramics, kites and embroidery.
Shadow puppets are distinctive ideas about the leisure of ancient Chinese people. Mostly people who have great influence in the history of China are portrayed. Representation of shadow puppets takes place in the manner of opera staging, with singing. Paper clippings convey the wisdom of Chinese people. They are very popular in rural China, especially in Henan and Shanxi provinces.
Art collections in this museum are presented in many forms, such as oil painting, traditional Chinese painting, fresco, woodcut, print, New Year's painting, photography and calligraphy.
Paper clippings are thin artistic patterns, cut from paper by local people, with just a couple of scissors. Served in talismans.
Masks are usually used to play operas in different parts of China, especially for performing on stage. People wear masks at festivals or at performances.
Embroidery is also very common in China. With the help of needles, silk threads and other fibers, various patterns are embroidered on fabrics, such as mandarin ducks symbolizing eternal love, or flowers depicting a happy life. China's famous embroidery is mainly known in Suzhou, Hunan, Sichuan and Guangdong.