Magnum Ars Auction House 20/09/2017 automatic translate
Magnum Ars is the largest company in Russia that organizes auctions of art objects, which includes an expert, research and publishing unit, a design studio, a restoration workshop.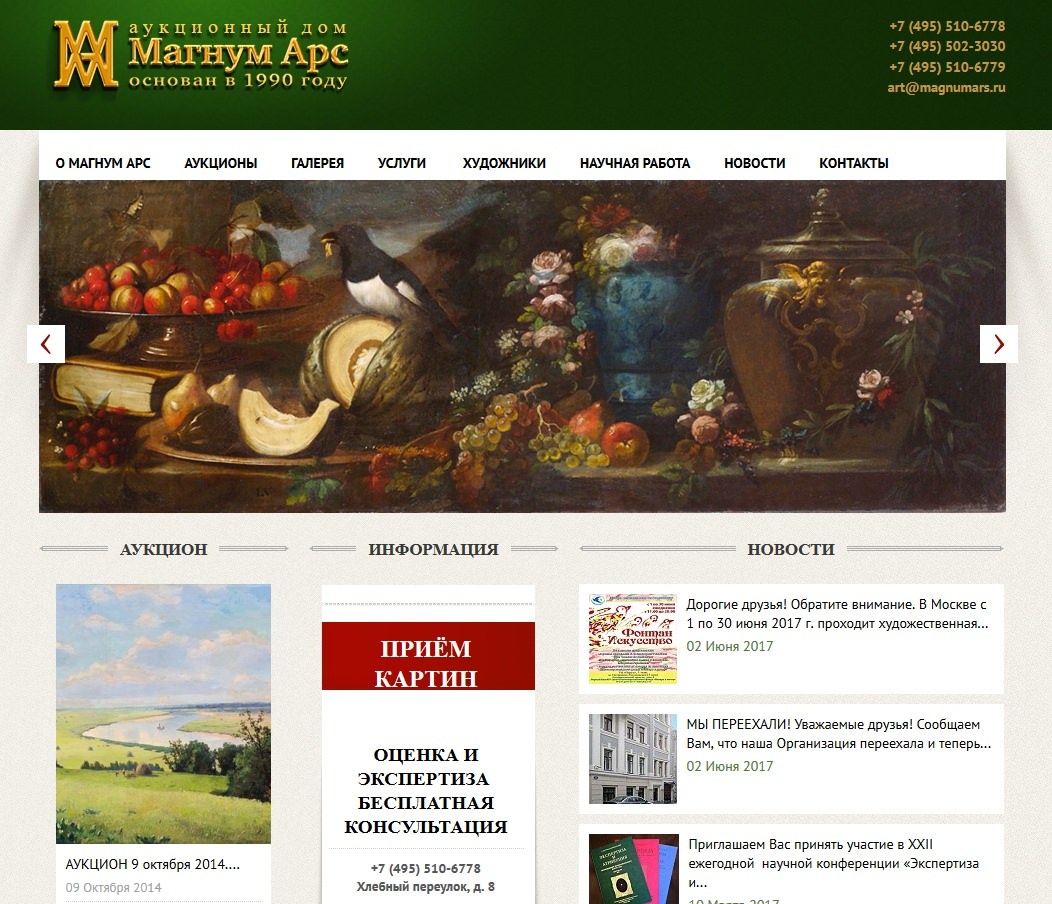 At the open auction, which systematically holds Magnum Ars, the participants have the opportunity to purchase paintings by famous Russian and foreign artists of the XVIII-XX centuries. The Internet resource of the company contains the necessary information for acquaintance with the order of receiving the paintings, which after the examination and evaluation are put up for sale.
The auction house was founded in the early 1990s. The activity of Magnum Ars began with the sale of jewelry, painting and decorative arts. The company earned a reputation quickly.
«Magnum Ars» carried out closed and public auctions. At this pace, the company continued its activities until 1996. It was during this period that a turning point occurred - the interests of ordinary citizens moved away from antiques. In 1996, the Magnum Ars auction house decided to continue working in the closed gallery mode, but the scientific and educational activities did not stop for a day. The location of Magnum Ars on the territory of the Tretyakov Gallery increases the attractiveness and authority of the auction house.
To date, Magnum Ars is publicly traded once a quarter. The assortment of each subsequent depends on the results of the previous ones.
«Magnum Ars» is open for the purpose of partnership in the purchase and sale of rare paintings. The greatest interest is given to Russian and European painting. In the gallery there are works of famous associations: Peredvizhniki, Knave of Diamonds, World of Art, Union of Russian Artists and many others.
In the Magnum Ars auction house, in a quiet and relaxed atmosphere, even the most demanding client has time to view the canvases of the greatest Russian artists near the canvas. The exhibition hall hosts a large number of paintings by European artists. The site of the company contains a virtual exhibition hall where you can get acquainted with the assortment in advance. There are also instructions for choosing and buying paintings.
The auction house offers a service of free examination of paintings, which clients plan to put up for auction. Examination of art objects is carried out not only by the employees of the auction house, but also specially attracted by professionals and companies. The purchase of paintings in the exhibition hall is a safe and secure transaction.
Also «Magnum Ars» has the opportunity to restore and restore the paintings, which in the future will go to the auction and the art gallery. Since 1995, the auction house in cooperation with the State Tretyakov Gallery has been actively engaged in research that reveals the problems of verification and attribution of paintings.